Modern & Robust Garden Awnings
Haselhurst Blinds is a proud supplier of Caribbean Blinds patio awnings. The range of awnings from this highly reputable brand are second to none when it comes to quality and design options. The awnings are all made in the UK to your exact specification and fitted by our expert technicians.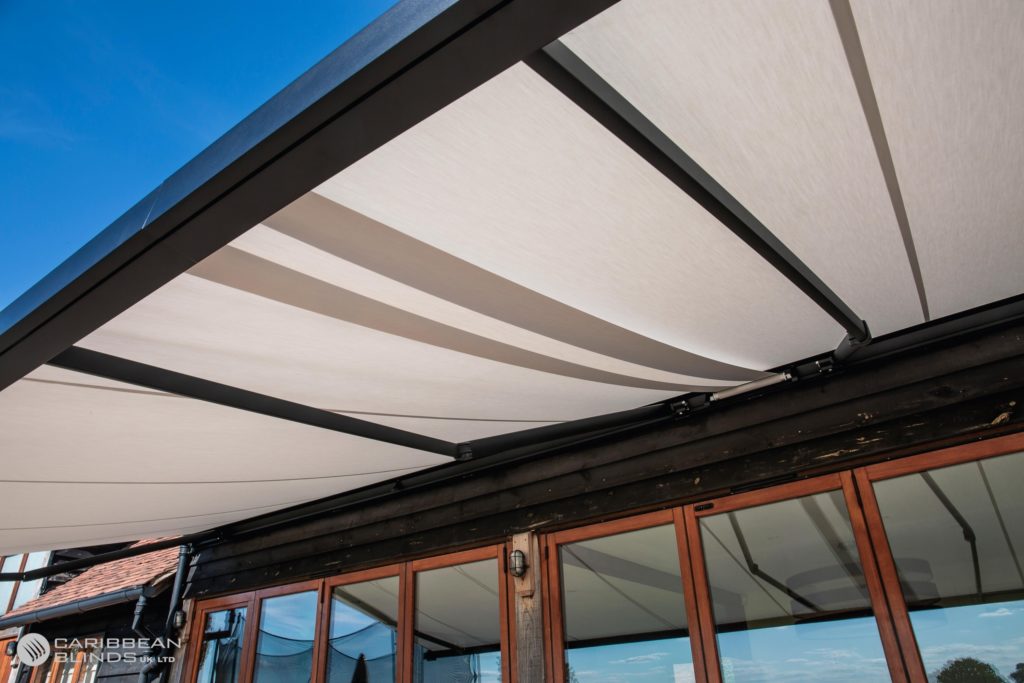 What is a patio awning?
Patio awnings are retractable shades that extend from a solid wall to provide cover and protection to an area of your garden. These awnings are free-standing, keeping your useable floor space in your garden completely open and free from supporting poles.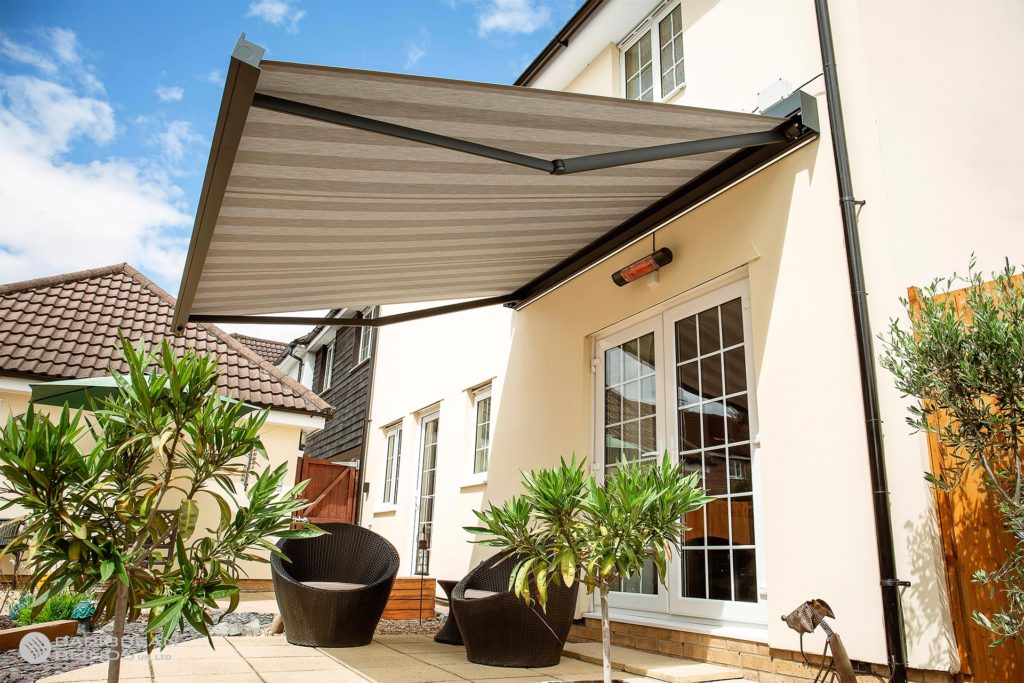 Awnings can either be manual or electric and are available in a range of sizes as well as having a vast collection of fabric and hardware choices to suit your style. Our teams will explain all of these options and help design your patio awning to perfectly suit your budget, style and needs.
Benefits of a patio awning
Modern & Stylish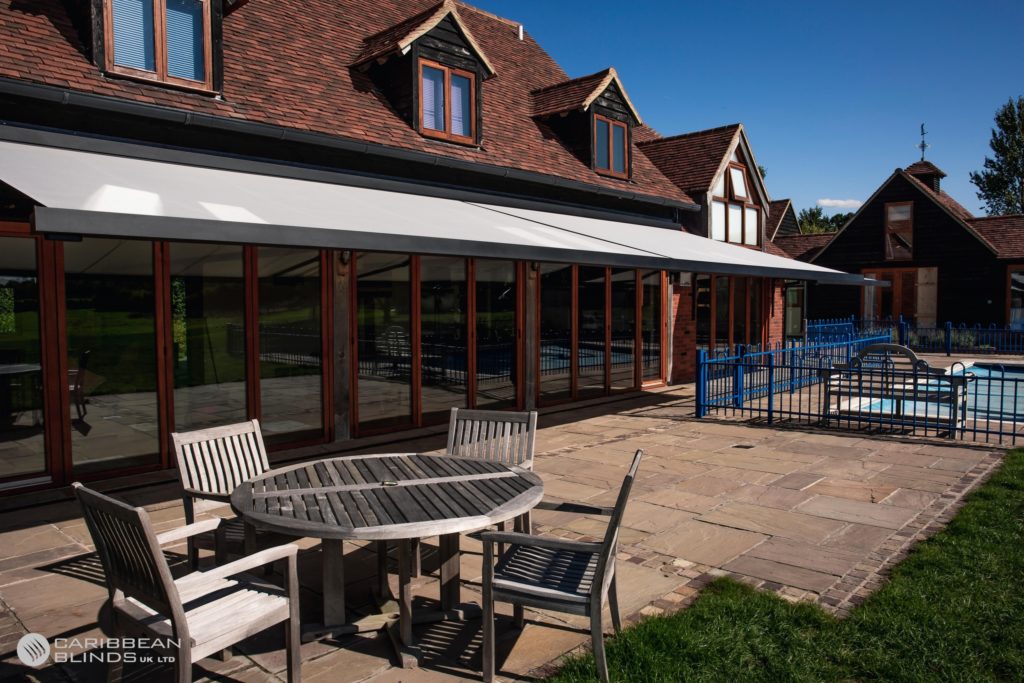 The collection of patio awnings available from Haselhurst Blinds are a stylish and modern addition to your home and garden. Choose from a range of styles, sizes, fabrics and hardware options to perfectly suit your needs and taste.
Strong & Robust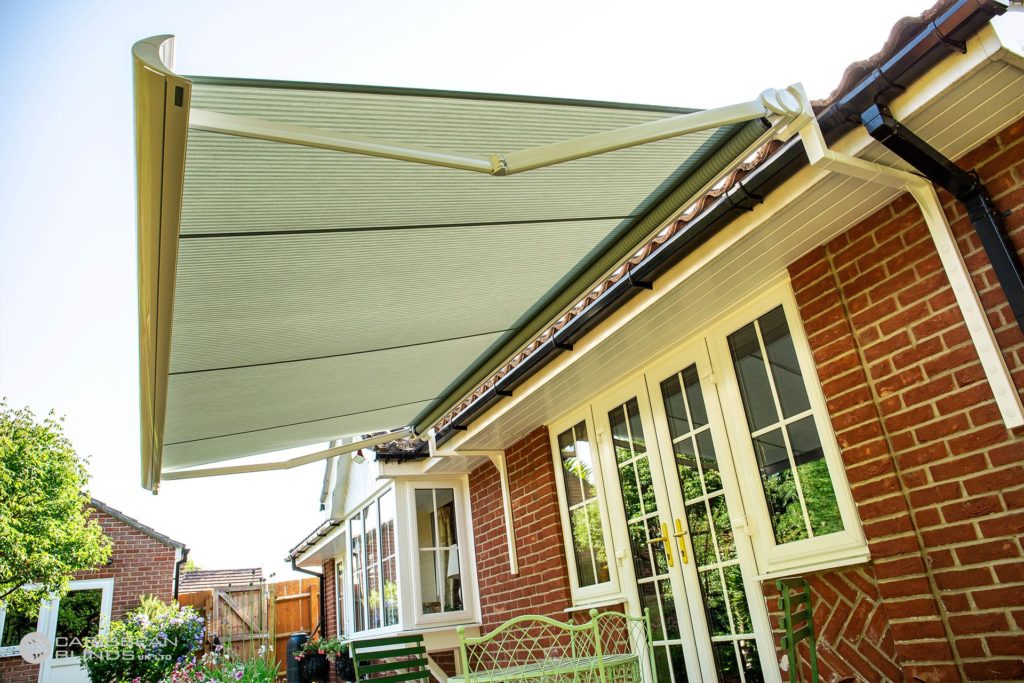 No matter which awning design you choose from our range, you are guaranteed quality which is backed by a 5-year guarantee. Our designs are all made in Britain with premium quality mechanics and top of the range craftsmanship.
UV Protectant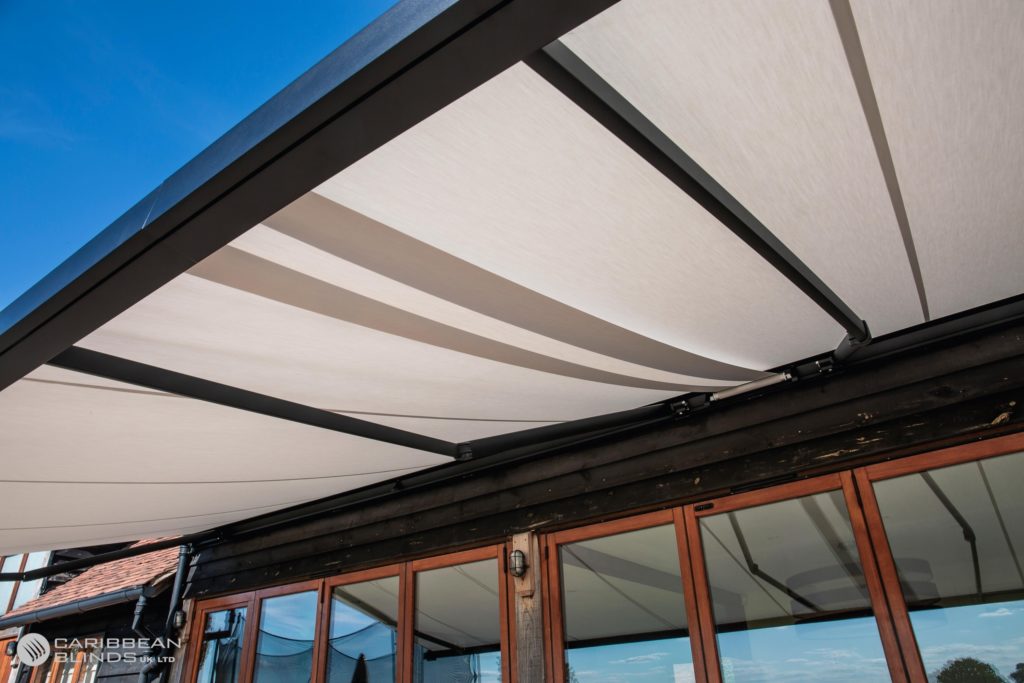 The shading fabric of our patio awnings provides 99% UV protection, keeping you safe whilst enjoying your garden whilst preventing your garden furniture from fading too.
Shading & Cooling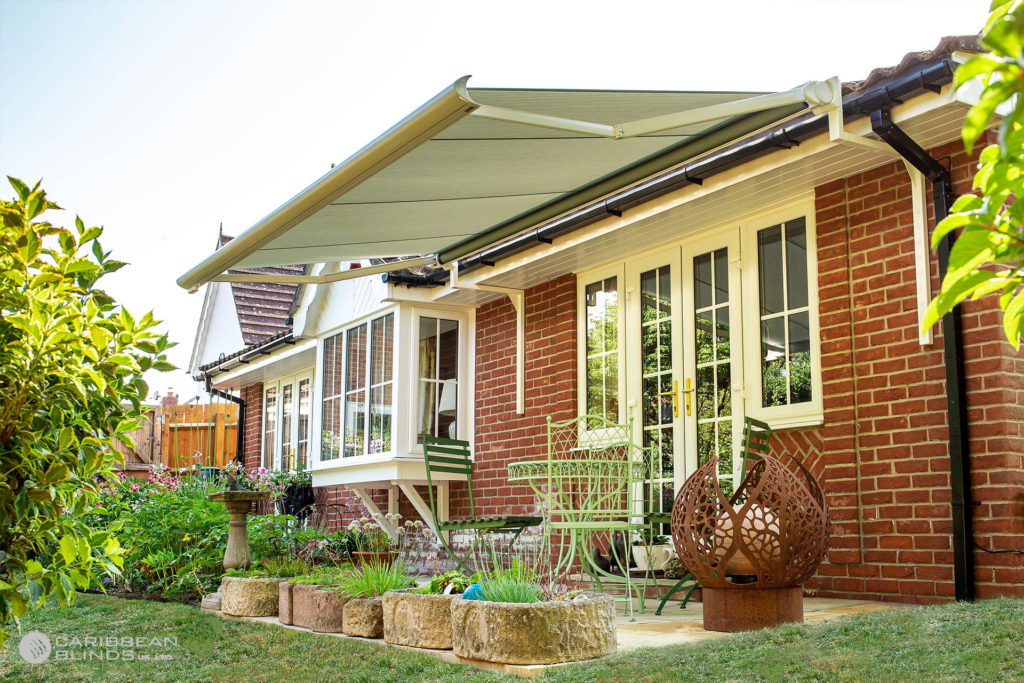 Optimum heat block is provided which covers the shaded patio area under your awning and also the adjoining internal room, helping to keep you cool in the warmer summer months. Our fabrics also diffuse the sunlight to create a glare-free space.
Rain Cover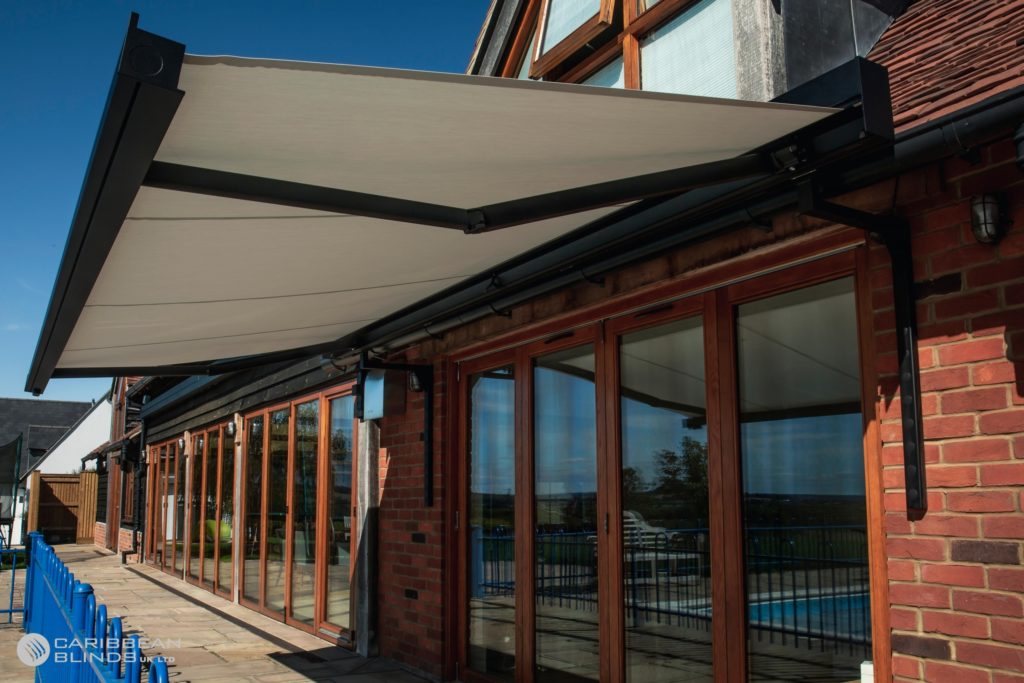 When the oh-so-typical British rain sets in, our patio awnings provide shelter meaning you can continue to enjoy your garden and patio terrace without interruption.
Retractable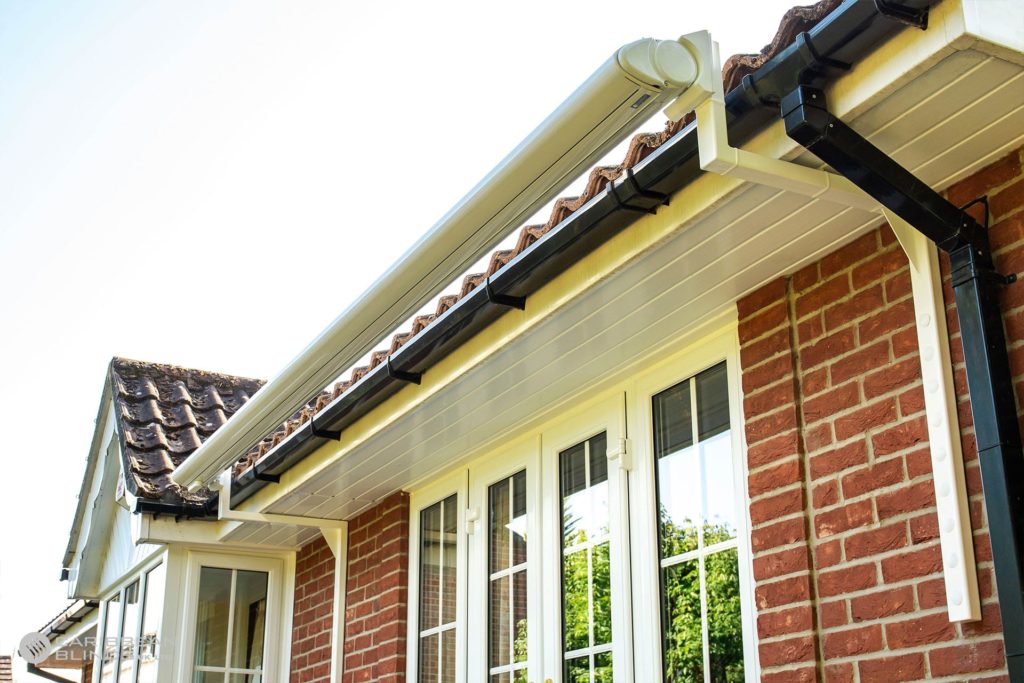 Patio awnings are designs to retract neatly and discreetly into their casing when not in use. Having the option to retract the awning gives you full flexibility on enjoying a shaded area in your garden or exposing yourself to full sun.
Let's talk about your garden awning ideas…
Find out more about our range of patio awnings and get a free no-obligation quote from our friendly and professional design team. Get in touch with the team today: